Research article

Open Access

Open Peer Review
This article has Open Peer Review reports available.
Quality of care assessment in geriatric evaluation and management units: construction of a chart review tool for a tracer condition
Received: 25 February 2009
Accepted: 29 July 2009
Published: 29 July 2009
Abstract
Background
The number of elderly people requiring hospital care is growing, so, quality and assessment of care for elders are emerging and complex areas of research. Very few validated and reliable instruments exist for the assessment of quality of acute care in this field. This study's objective was to create such a tool for Geriatric Evaluation and Management Units (GEMUs).
Methods
The methodology involved a reliability and feasibility study of a retrospective chart review on 934 older inpatients admitted in 49 GEMUs during the year 2002–2003 for fall-related trauma as a tracer condition. Pertinent indicators for a chart abstraction tool, the Geriatric Care Tool (GCT), were developed and validated according to five dimensions: access to care, comprehensiveness, continuity of care, patient-centred care and appropriateness. Consensus methods were used to develop the content. Participants were experts representing eight main health care professions involved in GEMUs from 19 different sites. Items associated with high quality of care at each step of the multidisciplinary management of patients admitted due to falls were identified. The GCT was tested for intra- and inter-rater reliability using 30 medical charts reviewed by each of three independent and blinded trained nurses. Kappa and agreement measures between pairs of chart reviewers were computed on an item-by-item basis.
Results
Three quarters of 169 items identifying the process of care, from the case history to discharge planning, demonstrated good agreement (kappa greater than 0.40 and agreement over 70%). Indicators for the appropriateness of care showed less reliability.
Conclusion
Content validity and reliability results, as well as the feasibility of the process, suggest that the chart abstraction tool can gather standardized and pertinent clinical information for further evaluating quality of care in GEMU using admission due to falls as a tracer condition. However, the GCT should be evaluated in other models of acute geriatric units and new strategies should be developed to improve reliability of peer assessments in characterizing the quality of care for elderly patients with complex conditions.
Keywords
Health Care ProfessionalMedical ChartDischarge PlanningTracer ConditionPredetermined Threshold
Background
Between 1978 and 1999, Geriatric Evaluation and Management Units (GEMUs) were established as specialized inpatient programs in most acute care hospitals in the province of Québec, Canada. GEMUs have multidisciplinary teams that provide integrated care to frail and disabled older adults within an adapted hospital environment. GEMUs collaborate with other resources in discharge planning and in promoting continuity of care [1]. Previous work has shown these units to be highly heterogeneous in terms of their structure, particularly in the training and experience of the health care professionals, the characteristics of the patients treated, the procedures for admission, and the functions they serve [2]. For example, university affiliated GEMUs are staffed by full-time certified internist-geriatricians whereas the majority of GEMUs are run by family physicians who divide their busy office practice with part-time spent in GEMU. As regards admissions, some patients are admitted directly from the emergency department whereas elsewhere patients are accepted only by transfer from other wards after their medical condition have been stabilized. The heterogeneity among GEMU structures might reflect adaptation to contextual and environmental demands. However, there is concern if the heterogeneity adversely influences the process of care and ultimately compromises health care outcomes.
Very few instruments exist for the assessment of the quality of care provided to hospitalized elderly. In the USA, a large scale research program called the Assessing Care for Vulnerable Elders (ACOVE) was developed to assess quality of care in the context of geriatric primary care, with process quality indicators [3]. While it addresses many health conditions, and even provides in-depth information on specific conditions, it doesn't take into account key issues and the multidisciplinary aspects of geriatric care found in GEMUs [4].
We therefore designed a chart abstraction tool aimed to extract data on health care professionals' process of care provided to older adults hospitalized in GEMUs. The objectives of this paper are: 1) to delineate the steps involved in the development of the GCT; 2) to describe its content; 3) to discuss its reliability and 4) to discuss its potential utility in evaluating quality of care in GEMUs.
Methods
The study was approved by the Medical Director and the Research Ethics Committee of the Institut universitaire de gériatrie de Montréal, as well as by all Medical Directors in the participating hospitals and by the Research Ethics Committees of nine hospitals which had required a separate evaluation.
Falls as a tracer condition to evaluate quality of care
Seminal work by Donabedian [5–9] has demonstrated that structure, process and outcome are clearly related. Their proposed structure-process-outcome model performs well for the assessment of quality of care in clinical practice [10, 11]. In the current study, we chose to assess quality based on the process of care rather than health care outcomes because it is difficult to disentangle the effect of frailty, age, co-morbidities and disabilities on health outcomes in this frail population [11]. The study adopted the US Institute of Medicine's definition of quality [11] with a focus on access to care, comprehensiveness, appropriateness, continuity and care centred on the patient [9, 12–17].
We adopted a tracer method developed by Kessner et al. [18], using falls with trauma as a tracer condition for the overall quality of care in GEMUs. In order to be valid, a tracer condition must meet the following criteria [18]: 1) important impact on health status; 2) easily defined condition; 3) high prevalence; 4) amenable to improvement through effective health interventions; 5) management adequately defined through at least one of these processes: prevention, diagnosis, treatment or rehabilitation; 6) effects of non-medical factors on the condition well understood. Additional criteria have been suggested: the tracer should cover the range of morbidity encountered by the practice concerned, and should be sensitive to treatment given the competence and experience of the health care team and the accessibility of relevant resources [19]. The tracer method is frequently used to evaluate the quality of care in various medical settings [20–22].
Falls with trauma met all the necessary criteria for a tracer condition: it is a common, well-defined and serious condition with a complex journey of care that involves a wide range of specialties and services. So, fall-related trauma was chosen in this study as the tracer condition to evaluate geriatric care, because we felt that it met the criteria better than other geriatric syndromes (e.g., delirium, dementia, urinary incontinence). Falls are effectively well recognized for their high prevalence and clinical significance in the elderly population [23, 24]. The Canadian Institute for Health Information reported that 84% of 67,478 hospitalizations due to an injury among individuals aged 65 years and older were a result of an unintentional fall in 2004–2005 [25]. Canadian and American studies or reports [23, 24, 26–28] have demonstrated the importance of falls in the elderly in terms of morbidity, mortality and costs incurred. In Québec, during the period 1997–1999, 290,000 persons aged 65 years and older had a fall each year [28]. In 2004, more than 12,000 hospitalizations and 600 deaths were attributed to falls in this population [28]. Prevention of falls in the elderly has been identified by the Québec Ministry of Health and Social Services as a public health priority for the province [29, 30].
Fall-related trauma also offers the advantage of being a precise diagnosis well documented in the medical records and the provincial ministry of health database on acute care hospitalizations in Québec (the so-called Med-Echo), contrary to a few other geriatrics syndromes. In the province, falls are systematically screened for on admission to hospital because of the mandatory report of incidents and accidents by the Ministry of Health and Social Services. Elsewhere, falls have also been chosen in other studies, such as the PACE program [31] and the ACOVE project [3], as a tracer condition to assess the quality of care provided to elderly. Some authors concluded that the tracer method with reference to fall-related trauma was practicable and succeeds in its objectives towards national-level initiatives [32, 33].
The next paragraphs describe the steps involved in the development of the GCT, including its reliability and feasibility, during a retrospective chart review of older inpatients admitted for the tracer condition of a fall-related trauma in GEMUs during the year 2002–2003, which are summarized in Figures
1
and
2
.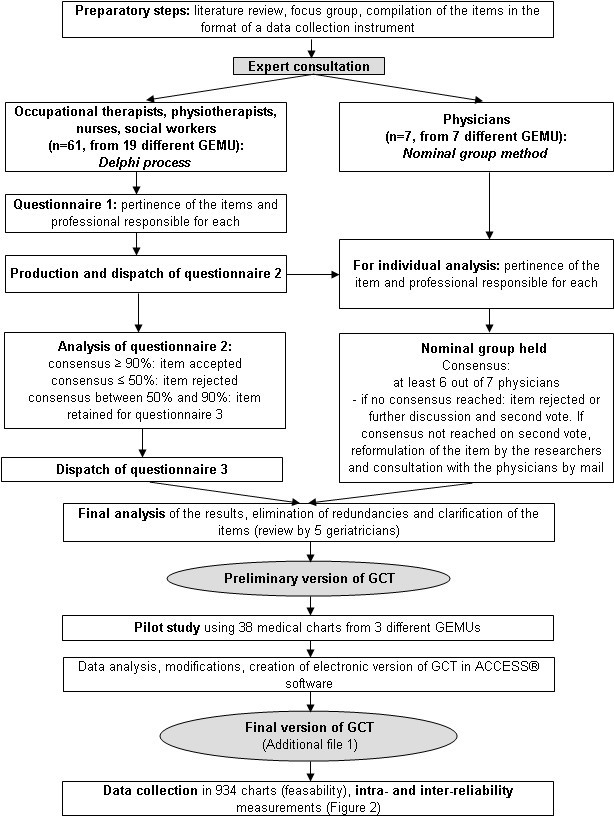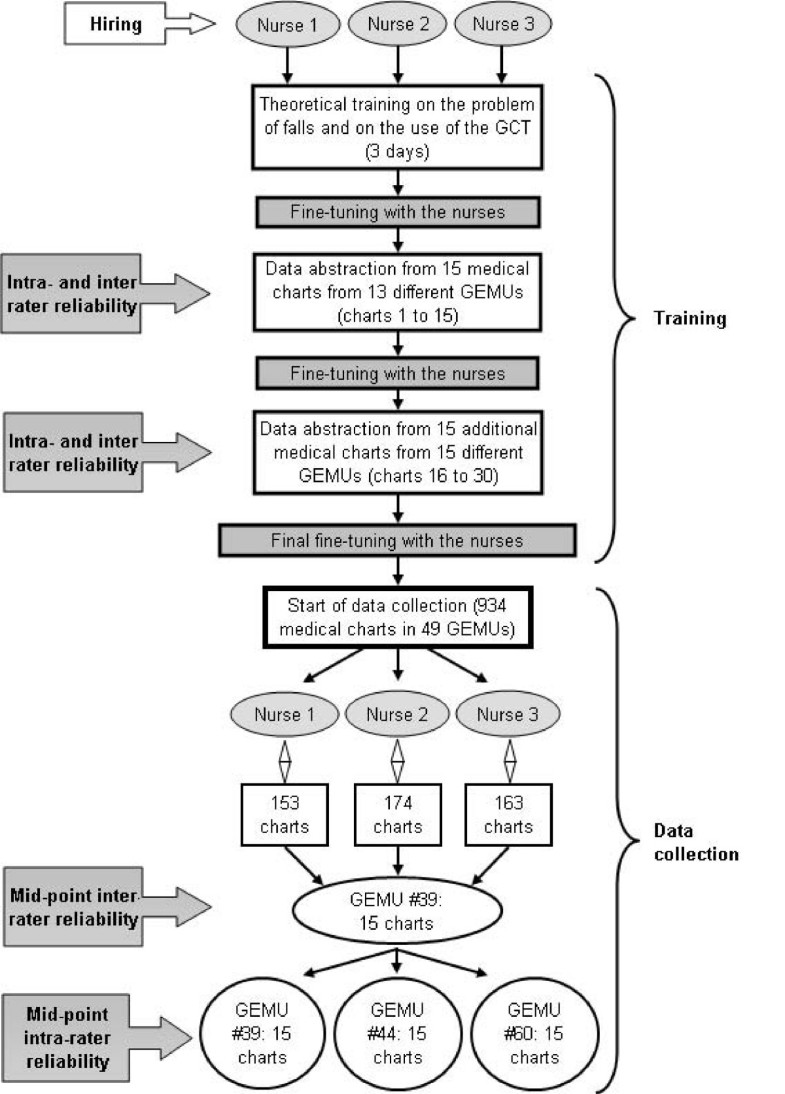 Developmental process steps of the Geriatric Care Tool
Results
Intra- and inter-rater reliability
The large majority of items demonstrated an intra-rater reliability of over 80% of agreement and most items obtained a kappa coefficient higher or equal to 0.60, suggesting that each nurse abstracted the information in a consistent manner. Only one item, presence or absence of the prescription for a home exercise program by the physiotherapist for an osteoarthritis problem in the lower limbs, had kappa of 0.39, below the predetermined acceptable threshold (Additional file 2).
Only inter-rater reliability results for items which did not meet the predetermined thresholds are presented below, section by section, as well as in Additional file 2. Throughout the text, percentage agreement and kappa coefficients are shown in parentheses in that order. All detailed intra- and inter-rater reliability results can be found in Additional file 3.
Feasibility
The selection of medical charts by hospitals' archives personnel was performed without problem, as well as their revision by medical chart nurses abstracters. The average time taken to administer the CGT for one chart was two hours, this permitted revision of four charts per day. The reviewers appreciated the computerized form of the GCT and the instructional guide. The fact that the GCT was computerized greatly helped the transfer of data, their rapid checking and later statistical analysis.
Defining quality indicators using items with acceptable reliability
Additional file 4 shows the proposed definitions of quality indicators based on the reliable GCT items for each dimension of quality of care relevant for an interprofessional geriatric service. Briefly, various indicators can be constructed to represent access to care (e.g., proportion of patients admitted from the emergency department (ED) vs. from another hospital unit, time since either entry to ED or admission to another unit and admission to GEMU). The research team chose to conceptualize access to care in two ways: the delay between acceptance by the GEMU team and the actual admission into the GEMU, and the delays between the dates of referral to various health care professionals and the beginning of the corresponding intervention. The comprehensiveness and continuity of care were evaluated by the ratio of interventions relative to the total number of items that were applicable (expressed as percentage). Additional file 4 presents reasons for determining exclusion criteria from some items such as: the presence of severe communication problems, inability to be moved or because the patient will imminently be sent to long term care. The comprehensiveness was evaluated for a specific profession or considering all health care professionals. Given that only two items were available to indicate patient-centred care, a single variable was constructed with three levels: both items present, a single item present and both absent. The appropriateness of care can be evaluated separately for four clinical areas: cognitive status, cardiovascular health, bone health and vision as well as an overall score by combining the results across all four clinical areas. The number of relevant clinical areas may differ by patient from one to four.
Discussion
Developing sound quality assessment tools for older patients with multiple and complex conditions is an important priority. Although falls in the elderly are of interest in and by themselves, our purpose is to judge the overall quality of care delivered to frail elderly by GEMUs based on falls as a tracer condition. We made the hypothesis that poor quality of care for falls will reflect poor quality of care in the management of other geriatric conditions. The step method of developing explicit-process, content-valid and reliable criteria for quality assessment was intended to meet these needs.
The proposed chart review abstraction tool showed itself to be a reliable procedure for gathering pertinent clinical information concerning four dimensions of quality of care: access to care, comprehensiveness, continuity and patient-centred care. However, some difficulties as suggested by weaker reliability was observed for some items requiring a synthesis as functional assessment or specific interventions that are however crucial, such as items concerned by the appropriateness of care.
Sources of problems and possible improvements
We deliberately chose to base our instrument on information contained in medical charts, for accessibility and feasibility reasons. We wanted our instrument to be easily completed by trained health care professionals, using the information usually available in medical charts. Since our purpose was to portray quality of care in all Québec's GEMUs, we needed an instrument which would be usable for data collection through the whole province, at reasonable cost. For all these reasons, we excluded the collection of prospective original data. We selected indicators of quality of care among those available in medical charts. This strategy has certain limitations related to the content of medical charts and the competence of the reviewer [42].
Numerous suggestions can be found in the literature for improving reliability of data abstraction from medical charts. The first group of recommendations addresses the items to be abstracted. They include: 1) use of explicit criteria, determined by experts and formulated as measurable items [40]; 2) use of a standardized instrument to facilitate data collection [43–45]: a) grouping of items by their source in the medical chart, and b) direct data entry into a computer program with retroaction (message for out-range entries, computer prompts for completion of fields), and optional text field to permit the reviewer to add comments to explain the choice of response; 3) production of a guide specifically explaining what information is sought for each item, its location in the chart by level of priority, as well as a glossary of equivalent terms [43, 46]; and 4) conducting a pilot study to test the instrument before the beginning of data collection [45, 46]. The second group of recommendations is directed to the chart reviewer. They include: 1) choice of reviewers to be based on competencies and knowledge of the subject under study [46]; 2) theoretical and practical training [45–47]; 3) evaluation of reviewers' performance before and during data collection [43, 46]; 4) continuous contact with reviewers during data collection in order to answer questions [46]; and 5) use of the original medical chart rather than photocopies, where possible, to avoid missing data or problems related to photocopy quality [45].
Despite our compliance to these recommendations, we encountered reliability problems related to the nature of the data contained in medical charts. Items of a subjective nature (e.g., review of systems, social history) were associated with weaker reliability scores than items of an objective nature (e.g., physical examination, laboratory assessment and physical performance). Weaker reliability was also observed for items which required the reviewer to synthesize chart data (e.g., functional assessment, specific interventions). The complexity of falls mechanisms and the myriad issues involved in the clinical pathway of geriatric hospital care may be responsible for a part of the difficulties for a standardised evaluation. It was anticipated that it would be more difficult to reliably report specific interventions, given the multitude of potential interventions over the course of a hospitalization, depending on the complexity of the case. Abnormalities of gait, strength, structure and function of joints in the lower extremities could especially be not reliably reported. The complexity of the systems (neurological, musculoskeletal, etc.) involved in the evaluation of these clinical problems among the elderly seems to make it all the more difficult to arrive at a precise description of them. This problem of documentation deficiencies (including handwritten problems either on format or content clarity) and lack of standardization led to errors of interpretation by the reviewers, who were obliged to synthesize what information was present.
These results are comparable to studies that used medical chart review to evaluate the quality of care using explicit criteria in other health care contexts [42, 43, 48, 49]. Over ten years ago, a research group lead by Ashton [40] used a comparable methodology to develop explicit criteria to evaluate the quality of care for three chronic conditions: congestive heart failure, obstructive lung disease and diabetes mellitus. The number of items associated with poor inter-rater reliability was 8/78 for congestive heart failure, 14/94 for obstructive lung disease and 22/109 for diabetes mellitus. However, for each chronic condition, the authors decided to eliminate those items associated with a kappa coefficient less than 0.20. Our intention is to use the results of the GCT for continuous improvement on the quality of care provided to older and disabled elderly in GEMUs. Consequently, it appeared paramount to adopt a higher threshold of reliability if we are to provide clinicians with an accurate assessment of their practices.
Lack of reliability may also reflect shortcomings in the collection of data by the reviewers themselves. Among the possible errors related to reviewers identified in the literature are data entry errors, missed information, computer mismatch, poor record quality or copy, unclear element definition, unclear location, not following rules or conflicting information [45]. During data collection with the GCT, data entry errors were easily identified and correctable. For the non-reliable items related to general interventions and discharge planning, the reviewers did not properly follow the evaluator guide, which stated that certain items were or were not applicable depending on discharge location. This resulted in a different interpretation of the codes "Item absent" and "Not applicable". This type of error was correctable because data on patients' post-discharge living situation had also been collected.
For items pertaining to the identification of a family doctor in the medical record, as well as on the review of systems, the errors were mostly related to the location of this information in the medical chart. In fact, during the pilot project and the nurses' training, it was noted that this information might be recorded by different members of the treatment team (attending physician, medical resident or consultant physician); or might have been recorded before the stay on the GEMU if the patient had been admitted to a different unit; or might have been recorded later in the stay on the GEMU. Even though explicit instructions were provided for its collection, the disparity in data location appears to have significantly affected reliability.
The reading of chart notes written by various health care professionals for the same item, reflecting the overlapping situations of tasks for taking the patients in charge, seemed to increase the risk of a different interpretation of the data by the reviewers. In fact, several items, where responsibility could be attributed to more than one health care professional, were considered unreliable for at least one responder. For example, this was the case for evaluation of the capacity to compensate the patient's functional limitations by the family or community network (occupational therapist and the social worker), of the evaluation of the impact of the fall on the social network for the same responders, of the aptitude to consent to care in the case of a patient suffering from cognitive problems (physician, occupational therapist and social worker).
Items which did not meet the reliability thresholds pertaining to the physical examination by occupational therapists or physiotherapists or social workers, on capacity for consent to care in the context of a cognitive impairment, and on communication with the family around the patient's discharge planning, could be modified to improve reliability by reformulating these items or offering more specific clinical training to the reviewers.
Research and continuous quality improvement applications
The results of the reliability study will be useful for planning future studies requiring chart abstraction. They may be useful for use on other hospital units besides the GEMUs. We are confident that the GCT could become a very useful tool to help geriatric teams to assess their interprofessional work, in identifying processes or care plans needing improvement. The methodology we have described in detail in this report can be used as a whole or adapted to any common geriatric syndrome by other geriatric teams involved in the care of frail elderly patients. It has the advantage to be very pragmatic, that is, it targets common clinical activities and is applicable to interdisciplinary interventions. The advent of electronic health records and standardized formats may facilitate more rapid access to precious information mandatory for improving and sustaining quality.
Medical and other health care professionals should reflect on the elements considered important that were not reliably extracted from the chart review (e.g., identification of the family physician, inquiries about chronic pain and continence) and self-evaluate their own documentation practices. The unreliability of some items indicates the need to standardize the terminology used to describe the clinical problems of the elderly, in particular those referring to balance and weakness of the lower limbs.
Conclusion
A reliable data collection instrument has been developed to identify the presence in medical charts of the clinical information judged by a multidisciplinary panel of experts to be important in the management of elderly patients admitted to GEMU for a traumatic fall. Content validity and reliability results suggest that this developed chart review abstraction tool can be used to gather pertinent clinical information in a standardized manner for further evaluating quality of care in GEMUs. Nevertheless, even if the feasibility part of our study seemed to be overall conclusive, it should be necessary to test the GCT in various GEMUs or other models of acute geriatric units outside of Québec (by other teams in different contexts and settings) in order to ensure its usefulness and generalizability.
Declarations
Acknowledgements
This research was supported by the Canadian Institutes of Health Research; the Québec Ministry of Health and Social Services; the McGill University-Université de Montréal Research Group on Integrated Services for Older Persons (SOLIDAGE); the Québec Research Network on Aging; the Department of Family Medicine at Université de Montréal and the Institut universitaire de gériatrie de Montréal. The authors gratefully acknowledge Dr Paule Lebel for her precious collaboration, Marcelle Ishak and Martine Remondin for their coordination assistance, Layla Dabby and Bruce Charles Bezeau for their editing services.
Authors' Affiliations
(1)
Research Centre, Institut universitaire de gériatrie de Montréal, Montréal, Canada
(2)
Centre hospitalier de l'Université de Montréal, Montréal, Canada
(3)
Direction de santé publique et d'évaluation, Agence de la santé et des services sociaux de Lanaudière, Joliette, Canada
(4)
Groupe de recherche interdisciplinaire en santé, Université de Montréal, Montréal, Canada
(5)
Department of Physical Therapy, University of Toronto, Toronto, Canada
Copyright
© Kergoat et al; licensee BioMed Central Ltd. 2009
This article is published under license to BioMed Central Ltd. This is an Open Access article distributed under the terms of the Creative Commons Attribution License (http://creativecommons.org/licenses/by/2.0), which permits unrestricted use, distribution, and reproduction in any medium, provided the original work is properly cited.