Research article

Open Access

Open Peer Review
This article has Open Peer Review reports available.
Rehabilitation needs for older adults with stroke living at home: perceptions of four populations
Received: 11 October 2006
Accepted: 13 August 2007
Published: 13 August 2007
Abstract
Background
Many people who have suffered a stroke require rehabilitation to help them resume their previous activities and roles in their own environment, but only some of them receive inpatient or even outpatient rehabilitation services. Partial and unmet rehabilitation needs may ultimately lead to a loss of functional autonomy, which increases utilization of health services, number of hospitalizations and early institutionalization, leading to a significant psychological and financial burden on the patients, their families and the health care system. The aim of this study was to explore partially met and unmet rehabilitation needs of older adults who had suffered a stroke and who live in the community. The emphasis was put on needs that act as obstacles to social participation in terms of personal factors, environmental factors and life habits, from the point of view of four target populations.
Methods
Using the focus group technique, we met four types of experts living in three geographic areas of the province of Québec (Canada): older people with stroke, caregivers, health professionals and health care managers, for a total of 12 groups and 72 participants. The audio recordings of the meetings were transcribed and NVivo software was used to manage the data. The process of reducing, categorizing and analyzing the data was conducted using themes from the Disability Creation Process model.
Results
Rehabilitation needs persist for nine capabilities (e.g. related to behaviour or motor activities), nine factors related to the environment (e.g. type of teaching, adaptation and rehabilitation) and 11 life habits (e.g. nutrition, interpersonal relationships). The caregivers and health professionals identified more unmet needs and insisted on an individualized rehabilitation. Older people with stroke and the health care managers had a more global view of rehabilitation needs and emphasized the availability of resources.
Conclusion
Better knowledge of partially met or unmet rehabilitation needs expressed by the different types of people involved should lead to increased attention being paid to education for caregivers, orientation of caregivers towards resources in the community, and follow-up of patients' needs in terms of adjustment and rehabilitation, whether for improving their skills or for carrying out their activities of daily living.
Keywords
Focus Group
Health Professional
Personal Factor
Family Caregiver
Social Participation
Background
Stroke is the third leading cause of long-term disability [1] and its incidence increases markedly with advancing age [2]. With improvements in health care, more people survive strokes but many have to cope with the physical, psychological, social and functional sequelae, resulting in increased personal and public costs [1, 3–5] and a marked decline in their quality of life [6–11]. After a stroke, most elderly people return to their home environment quickly, despite suffering from various impairments and disabilities and often without having received any rehabilitation services to reduce or compensate them [12, 13]. In Canada, only about 10 to 15% of people with stroke receive inpatient rehabilitation services [14]. The other survivors, whose physical deficits are not so severe or whose impairments and disabilities are not properly identified, return to their own environment, with or without support services [15, 16]. In order to better plan the offer and delivery of rehabilitation services, the partially met or unmet needs of people who live at home after stroke are little known, especially from the perspective of the different actors involved in this process. Even though many studies have been carried out on recovery from impairments and disabilities after stroke and the consequences of such disabilities, very few are interested in exploring partially met and unmet rehabilitation needs that could restrict the social participation of these people in their daily activities and social roles.
The aim of this study was to explore partially met and unmet needs of adults aged 65 years or over who had suffered a stroke and who live in the community, with or without services. The emphasis was put on the needs that are considered obstacles to social participation from the point of view of older adults with stroke, caregivers, health professionals and health care managers.
Literature review
What do we know about social participation and rehabilitation needs for people with stroke?
Social participation
According to the Disability Creation Process (DCP) model, social participation or its opposite, handicap situation, is identified as a situational result that varies over time depending on the interaction between personal factors (the individual's organic system, capabilities, identity) and environmental factors (social and physical) [
17
,
18
] (Figure
1
). This systemic model of human development, which is widely known and used in Canada, is based on the interaction between individuals and their environment. This model is very useful for identifying and classifying variables under study with greater systematization and consistency.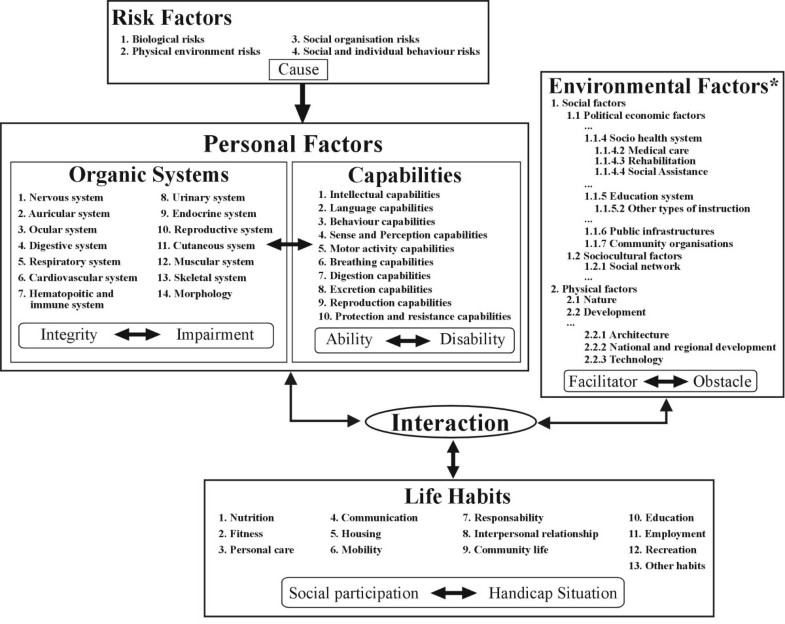 Stroke highly affects personal factors that include both impairment and disability. There is major impairment of the nervous system and other organic systems (e.g., muscular, ocular). The consequences of these impairments are operationalized through the presence of disabilities in capabilities (e.g., intellectual, language, behaviour, sense and perception, motricity and balance). Depending on the number and extent of these disabilities, people vary in their ability to accomplish daily activities and social roles (presence of handicap situations at one end of the spectrum and optimal social participation at the other) [19].
The characteristics of the person's environment also affect social participation after stroke. Social environmental factors include elements such as the support from the family and utilization of health and social services, whereas physical environmental factors refer to natural or technological elements (e.g., climate, technical aids). As obstacles or facilitators, these factors can either hinder or help in the accomplishment of daily activities and social roles.
Finally, the different activities and roles that the person values (called 'life habits' in the model) are divided into 12 domains. Six of these domains refer to the person's daily activities (nutrition, fitness, personal care, communication, housing, mobility) whereas the other six refer to social roles (responsibility, interpersonal relationships, community life, education, employment, recreation). It is in these activities and roles that handicap situations or restriction of participation can arise. In the DCP model, needs might be considered as the outcome of a lack of congruence between personal factors and different factors in the environment [18].
Because of the high incidence of stroke [20] and its potentially negative impact on various aspects of a patient's life [5, 10, 21–23], studies on social participation were carried out among people who had suffered a stroke. The results of a telephone survey conducted by Mayo et al. in 2002 [24] among 434 respondents show that participation by this clientele in basic activities such as eating, dressing and moving around is less often restricted (39%) than participation in domestic tasks such as going shopping and cleaning the house (54%) which, in turn, is less affected than participation in community activities (65%) associated with social roles.
Rehabilitation needs
Specific studies on rehabilitation needs are still rare [15, 22, 25–28], which means that generic literature on needs is applied to rehabilitation. Bradshaw's taxonomy of social need [29], as used by Pineault and Daveluy [30], identifies four types of needs: felt, expressed, normative and comparative. Felt needs are equated with wants and are limited by the perceptions of the individuals in regard to the health services available [29]. Expressed needs are demands or felt needs turned into action. They are commonly used in health care services where waiting lists are taken as a measure of unmet need [29]. Normative needs are those defined by health professionals, administrators or experts in relation to norms or a desirable standard [29]. Finally, comparative needs refer to a measure established by studying the characteristics of those in receipt of a service, in other words, populations in which the evaluated needs are generalized [29].
The goals of rehabilitation services and programs are currently based on the judgment of professionals who evaluate functional disabilities, ability to carry out daily activities and significant leisure, occupational and social activities, as well as health problems [31], to determine needs. These needs assessments are often incomplete because assessments are done only once, most often with standardized tests and outside the person's home environment or community context [15, 16, 32]. Furthermore, although family members may have more difficulty identifying needs than the patients themselves and the professionals [33], their input is essential to a needs assessment [16, 34, 35]. Consideration both of the needs expressed by individuals and their caregivers, and of the normative needs identified by health professionals, ensures a more reliable result, since many patients can be more passive than expected in expressing their needs [25, 32, 36–39]. Also, expressed needs for rehabilitation services may greatly vary from one area to another [27, 40–42], possibly because of differences in accessibility. In addition, repeated measures post-stroke show that needs change over time [14, 28, 38, 43].
Based on the DCP model, there are needs related to personal factors (capabilities) [9]. Indeed, motor and sensory problems on the side contralateral to the brain lesion [12, 14, 16, 44, 45] as well as perceptual and cognitive [14, 47–51] and psychosocial [14, 40, 46, 49–59] disorders, disrupt the daily lives of people with stroke. Often, older adults with stroke do not spontaneously find effective strategies to cope with the affective (apathy, depression, emotional variation) and cognitive problems (memory, attention, concentration, organization, judgment, communication) [60–62]. Even after adjusting for the degree of physical disability, people with cognitive deficits remain more dependent, and this dependence has increased two years after the stroke [49]. In a study carried out in Denmark, the patients reported the need for supervision and advice to continue proper physical and cognitive training at home [63]. Martin et al. (2002) [19] and Pierce et al. (2004) [64] presented similar outcomes in their recent works.
Some needs related to environmental factors are documented in literature but most of them refer mainly to rehabilitation services and education, without considering other important environmental elements. Following inpatient rehabilitation, people who had suffered a stroke expressed unmet needs related to preparation for discharge, instructions, information and support with referrals to community resources, rehabilitation services, exercise programs at home, support in doing exercise programs, support for the individual and couple during the adaptation process, nutrition, safety and housework [55, 60, 65–68]. The optimum benefit from rehabilitation is often not achieved during hospitalization, because of the stress experienced in the acute phase [11, 59]. Thus, there is a perceived lack of care continuity [23, 41, 69]; one of the aims of the single entry point, which is currently being implemented in some regions, is to fill this gap [70]. During the rehabilitation process, some individuals progress more slowly and may need treatment to improve recovery for up to two years post-stroke [43, 71, 72]. Education, combined with counselling for self-assessment, could help people become more aware of their needs, which would help them adjust better to their disabilities [27, 73]. Rehabilitation should focus more on satisfaction with life and leisure activities than simply on independence in day-to-day activities [5, 32, 62]. Brandriet and colleagues [60] studied perceived needs post-stroke after discharge from inpatient rehabilitation among a small number of individuals (n = 20) in a single metropolitan area; post-stroke survivors indicated they needed more therapy (physical therapy, occupational therapy and speech therapy) whereas they and caregivers also reported the need for greater social support. The recent focus group study of Hare et al. [72] combined two groups of experts (27 patients and 6 caregivers). The study concluded that better methods were required for providing information to long-term survivors of stroke and for addressing their emotional and psychological needs [22, 46]. As mentioned earlier, literature concerning other types of needs related to environmental factors is limited. In one example, Evans and Northwood [73] carried out a study among a heterogeneous population aged 43 to 87 years; one of their conclusions was that there exist social assistance needs for adjustment to stroke.
For needs related to life habits, the third component of the DCP model, most of the previous studies point out general problems with mobility and instrumental activities of daily life [46, 60–62, 74]. In the Brandriet et al.'s study [60], post-stroke survivors indicated specific unmet needs for housekeeping, financial, nutritional and safety aspects as well as for relearning skills (maintenance/household tasks). Between one and four years post-stroke, balance, walking and instrumental activities of daily life such as personal care, housekeeping, cooking and psychosocial activities have deteriorated [11, 75].
The present group of authors had previously carried out a preliminary study with four different small groups of experts (patients, caregivers, health professionals and health care managers) from a single semi-urban area [76]. Results showed partial and unmet needs relating to personal factors (mainly capabilities), environmental factors and life habits. Analysis of environmental factors also revealed the need for social support, the need for more rehabilitation services and the importance of the caregiver's role. Results were sufficiently relevant to motivate a more in-depth study in different socio-geographic areas including urban and rural areas.
In summary, context of all of the above studies was restricted, which limits their external validity. Most literature considers capabilities, the socio-health system, the education system and some life habits (daily activities); there is very little information about unmet rehabilitation needs related to social roles and environmental factors such as social assistance, public infrastructures, community organizations, social network and physical factors. Also, most of the literature refers to normative needs (from the health professionals' perspective). In 2002, when our study began, very few studies put emphasis on expressed needs from the standpoint of older adults with stroke and caregivers. After 2004, studies were published on that subject [32, 34, 37, 38, 77, 82]. We could not find any literature written from a health care manager's perspective except for Talbot et al. [76], our pilot study. Since most people report a reduction in their activities and interests post-stroke [74], stroke has a substantial impact on the accomplishment of daily activities and social roles (life habits) that are essential to well-being and personal development, even when impairment and disability are mild [10].
Objective of the study
This study examined partially met and unmet rehabilitation needs (expressed and normative) for people with stroke aged 65 and over, with respect to their personal factors (capabilities) and life habits, and environmental factors, with a view to maintaining optimal social participation. Better knowledge and understanding of rehabilitation needs and services for this population should contribute to changes in clinical and organizational practices.
Results
Needs related to personal factors (capabilities)
Nine categories of capabilities were documented out of a possibility of 10 listed in the DCP model [
18
]. In fact, only the "breathing capabilities" category was not discussed by participants. The themes that emerged for each category are presented in Table
5
. The capabilities that drew the most interest in terms of partially met or unmet needs were those related to behaviour, language, motor activities and sexual relations. The caregivers were especially sensitive to behavioural changes in the patient, which was also the case for the health professionals, though to a lesser extent. The health care managers were particularly sensitive to the needs related to language capabilities, while the patients themselves seemed more affected by partial or unmet needs relating to motor activities, such as walking and gripping ability, as well as more intimate activities such as sexual relations. However, Table
5
shows four categories of capabilities that were not identified as partial or unmet needs by the patients and three that were not identified as such by the health care managers.
Table 5
Partially met and unmet needs with respect to personal capabilities
Capabilities

No. of iterations reported by

Themes

Caregivers

Health Professionals

Healthcare Managers

Patients

Intellectual capabilities

1

2

0

2

▪ Stimulation (neuropsychology, speech therapy, occupational therapy)

Language capabilities

5

5

8

0

▪ Aphasia: Learning to point

▪ Aphasia: Relearning words with pictures

▪ Aphasia: Relearning to write

▪ Aphasia: Communicating on the computer

Behaviour capabilities

33

8

1

7

▪ Valuing, security, acceptance, being loved, keeping up to date

▪ Follow-up for depression (psychology)

▪ Follow-up for periods of mourning: agressivity, revolt, frustration, discouragement, anxiety, hope

▪ Changes of role and timetable: sitting, dependence on family for ADL, outings organized differently, driving car

Sense and perception capabilities

6

1

1

0

▪ Unilateral-neglect, re-education: reading, eating, dressing

▪ Hypersensitivity on affected side

▪ Spasticity

▪ Pain

Motor activity capabilities

3

1

5

10

▪ Learning to walk again, loss of balance, climbing stairs

▪ Physical exercises, stiffness and follow-up

▪ Reeducation of upper limb and follow-up

Digestion capabilities

3

3

2

0

▪ Dysphagia, re-educating family: food and swallowing

▪ Discussion (occupational therapist, speech therapist, dietician)

Excretion capabilities

3

0

0

0

▪ Enuresis: acceptance and dignity

▪ Support at day centre

Reproduction capabilities

2

3

0

10

▪ Expressing sexuality

▪ Availability of information (little discussed by health professionals)

Protection and resistance capabilities

0

1

1

1

▪ Pain

▪ Tiredness: car driving and walking long distances
Needs related to environmental factors
Table
6
presents the themes emerging for each environmental factor of the DCP model, according to the order shown in Figure
1
. Four politico-economic factors were documented out of a possible seven: socio-health system (medical care, rehabilitation, social assistance), education system (other types of instruction), public infrastructure and community organizations. Needs related to the political system and governmental structure, the judicial system or the economic system were not reported by any of the participants. One of the two sociocultural factors of the model was explored. Social rules were not addressed by the participants. Finally, some physical elements were discussed.
Table 6
Partially met and unmet needs with respect to environmental factors
Environmental Factors

No. of iterations reported by

Themes

Caregivers

Health Professionals

Healthcare Managers

Patients

Political economic factors

Medical care (socio-health system)

33

30

24

32

▪ Information on existing services

▪ Access to services (delays and disparities)

▪ Follow-up and transfer of files between establishments

▪ Respite services for caregivers: lodging, sitting

▪ Long-term follow-up by CLSC1

▪ Information on medication

▪ Follow-up on taking medication

Rehabilitation (socio-health system)

64

63

17

39

Rehabilitation:

▪ Multi-disciplinary care for patients: speech therapist, neuropsychologist, psychologist, nutritionist

▪ Evaluation of care dependent on budget and services offered rather than on patient's needs

▪ Personalized approach: length of stay, competency of staff with respect to aphasia, knowledge of patient's file, feeding, alternative therapy, intensity of interventions, services limited in some disciplines (speech therapy), attitude of staff with respect to overprotection, staff rotation versus counselling

Adjustment:

▪ Access to services (delays): assistive technology, adaptation of home and vehicle

▪ Disparities between services offered in different CLSC territories

▪ Obtaining AT and support for care process: AT for the bathroom, clamp, electric bed, portable hoists, AT feeding, grab bars, emergency call button

▪ Home adaptation, support for care process: door frames, bathroom, access ramps, lift on rails, stairs, exiting the home

▪ Vehicle adaptation

▪ Follow-up on attribution of AT and home adaptation

▪ Support and means to find resources in the community (social worker, doctor)

▪ Psychosocial support offered to the family at start and end of stay

▪ Meeting with family at start and end of stay

Social assistance (socio-health system)

15

12

10

4

▪ Information on existing services

▪ Discussion group and support for caregivers

▪ Discussion group for patients

▪ Sitting or respite services

▪ Day centre

▪ Temporary lodgings

▪ Support service for meeting with volunteers

▪ Voluntary support and partnership: life project

▪ Who does what: meetings, voluntary work, services, care...

Other types of instruction (education system)

14

23

10

19

▪ Direct instruction to caregivers/family by health professionals (bathroom hygiene with AT, practising walking, preventing falls, medication, aphasia, exercises, state of health, nutrition, feeding and nourishment, basic care such as using the toilet)

▪ Integration of caregivers/family in vivo during care interventions (gym, therapy, services plan, day hospital)

▪ Prevention of falls (information meeting, video)

▪ Momentum for communicating information to patient and caregiver

▪ Education on consequences and impacts at home (preparing for return home)

▪ Education on mourning process

▪ Equip caregivers with tools to find services for the patients, answers to their questions and support resources

Public infrastructures

4

2

3

10

▪ Adapted/accessible transportation or paratransit

Community organizations

1

9

2

2

▪ Information on existing services, directories

▪ Community services for stroke survivors

▪ Transport by community organizations

▪ Promotion and education by certain community organizations relating to consequences of stroke (values, attitudes)

Sociocultural factors

Social Network

6

6

1

7

▪ Family: availability and relationships

▪ Friends: social climate

Physical factors

Architecture; National and regional development

2

0

0

7

▪ Circulation space in public places (walking frame, wheelchair): sidewalks, ramps, stairs

▪ Parking spaces

▪ Rest areas: public benches

▪ Use of doors

Technology

0

2

2

6

▪ Access to mobility aids for shopping (wheelchair, walking frame, tripod cane)

▪ Access to special needs equipment (pool, treadmill, rails...)
Socio-health system
At the medical care level, all the groups agreed on needs relating to financial and human resources (scarcity of resources), and most participants talked of difficulty accessing the services (delays and disparities) and obtaining follow-up. Partially met or unmet needs were reported at several levels of rehabilitation. For ease of understanding in Table 6, all the interventions aimed at improving a person's potential were classified under "rehabilitation", while those concerning adjustment to the human and physical environment were classified under "adjustment". Adjustment becomes necessary when an individual's rehabilitation has reached a plateau; at that stage the individual's disabilities must be compensated by the human or physical environment [82]. The themes arising from the discussions indicate that rehabilitation is not often personalized to the needs of the patient and that, for reasons of budget and availability of resources, the emphasis is put more on evaluating patients than on rehabilitation activities. Lack of resources in psychology, speech therapy and neuropsychology was also reported. On the issue of adjustment, the caregivers and health professionals exposed a number of problems relating to services for adapting the patient's home or vehicle and with respect to obtaining technical assistance. In addition to the disparities and delays in the various services, there are also persistent problems in the continuity of these services. Furthermore, on the issue of adjustment, not enough support is given to patients and caregivers to identify the resources available to them in the community. Finally, the psychosocial support offered to families who are in the process of rehabilitation is not necessarily available at the right time. To sum up the needs with respect to the socio-health system, social assistance emerges as an unmet need that is criticized by many. Access to support groups for caregivers, sitting and respite services and temporary lodging remain unmet needs expressed by many participants.
Regarding the education system, with respect to other types of instruction (not related to academics), there is a pressing need to educate caregivers and to give the instruction at the right time. The need for education was discussed in all the groups and to a greater degree among the health professionals. Insofar as public infrastructure is concerned, only the need for accessible/adapted transportation or paratransit was described as being partially met or unmet. The issue of community resources was hardly raised at all; this appeared to be a little known subject by all the groups of participants. Finally, with respect to support from community organizations, the caregivers and health professionals were the two main groups who expressed concerns about needs in this area.
Sociocultural factors
Just one sociocultural factor was discussed: the social network. This aspect remains an unmet need that was identified unanimously by the caregivers, health professionals and patients alike. The main points raised concerned relations with family, friends and organizations promoting awareness in the community.
Physical factors
At the development level of the DCP model's physical factors, partial and unmet needs were addressed, if succinctly, in terms of architecture, national and regional development and technology related to medical devices or assistive technology used by people with stroke.
Needs related to life habits
Table
7
presents all the themes that emerged per life habit according to the Disability Creation Process [
18
]. Eleven life habit areas were documented out of a possible twelve; only "Education" was not discussed. One life habit was the subject of heated discussions in all the groups: interpersonal relationships. The managers and patients in particular reported various problems persisting in relationships with friends, family members, partners, other patients and in the community. The issue of carrying out personal care at home also emerged as an unmet need and was discussed by all four groups, more especially by the health professionals. The main difficulties lie in dressing, use of the toilet, and personal hygiene. Travelling short and long distances was also reported as a widespread problem, but only by the caregivers and the patients. Eating food and maintaining a healthy body and mind were problematic life habits, mainly for the patients. The health professionals in particular underlined the persistant difficulty in carrying out leisure activities. Finally, the problem of sending and receiving messages was raised by the caregivers and health professionals, with respect to the need for more stimulation in oral and written communication. Finally, four life habits were discussed that could not be compared among the four groups: habits related to housing, taking responsibilities, community life and employment (including volunteer activities).
Table 7
Partially met and unmet needs with respect to life habits
Life habits

No. of iterations reported by

Themes

Caregivers

Health Professionals

Health Care Managers

Patients

Nutrition

3

4

0

8

▪ Preparing food

▪ Independent feeding. Feeding oneself

▪ Using kitchen utensils with one hand

▪ Meals-on-wheels service

▪ Diet to be followed

▪ Difficulty swallowing

Fitness

1

5

3

9

▪ Enrolling in a group activity requiring use of upper limb

▪ Exercise program offered on discharge

▪ Changing bad habits (smoking, alcohol, eating, exercise)

Personal care

4

8

3

2

▪ Dressing

▪ Use of toilet

▪ Personal hygiene

Housing

1

0

0

1

▪ Supervision at home and safe movement

Mobility

8

0

0

8

▪ Walking long distances

▪ Driving a car, losing a license

▪ Trips outside the home with community organization (volunteers) restricted to bank, doctor

▪ Adapted/accessible transportation (outings, doctor)

▪ Taxi (expensive)

Communication

5

6

0

0

▪ Stimulation for communication: reading, speaking

Responsibility

0

1

0

1

▪ Change in roles: managing budget, paying bills, doing personal care, going to the bank

Interpersonal relationships

4

6

10

9

▪ Visit from friends or family (movement more difficult)

▪ Family relations (arguments, humiliation...)

▪ Intimate and sexual relations difficult in lodgings

▪ Relationship with partner (prevention: separation, divorce)

▪ Resources for meeting people socially

▪ Relationships with other patients

Community life

0

1

1

3

▪ Going to church (spiritual life)

▪ Shopping difficult if have to walk (-) and carry bags (-)

▪ Adapted leisure activities

▪ Using banking services

Employment and other habits

0

1

2

0

▪ Social integration through leisure, adapted or regular work or volunteer work: find partners outside the health network

Recreation

2

8

1

3

▪ Availability of volunteers for adapted/accessible transportation

▪ Open-air activities in wheelchair and adapted vehicle

▪ Community leisure activities organized through day centre

▪ Seeing new areas

▪ Going on travels

▪ Using restaurants
Discussion
The results show that partially met and unmet needs exist with respect to nine types of personal capabilities, nine environmental factors and the majority of life habits (11 out of 12). In light of these results, what conclusions can we draw from the analysis of the expressed and normative needs of each of the four groups of experts consulted? Furthermore, how can the results obtained improve what we currently know about the rehabilitation needs of people with stroke? Finally, what were the advantages and limitations of using the DCP model for this study?
Conclusion
Better knowledge of the needs of people with stroke in accomplishing the activities and social roles they value is essential for improving rehabilitation services, because social participation is recognized as being the ultimate goal of rehabilitation. The presence of handicap situations in areas such as interpersonal relationships, mobility and leisure can isolate the person and foster the development of secondary disabilities if appropriate interventions are not offered. A better knowledge of rehabilitation needs and changes in them after discharge from formal services will improve coordination of these services and develop other services to address needs that are not currently being met, in the aim of maintaining the population active in social roles. In this respect, the results show that needs persist after patients are discharged, relating to nine capabilities in patients, nine environmentally related factors and eleven life habits. Close caregivers and health professionals identify more unmet needs and put the emphasis on the importance of making the rehabilitation process more personalized. The patients and health care managers have a more global vision of rehabilitation needs and put greater emphasis on available resources. To encourage better social participation of elderly people with stroke when going back at home, the study suggests that more should be done to meet the needs relating to capabilities, the patient's environment and life habits. Reducing the obstacles in the socio-politico-economic environment becomes essential for assuring a more personalized approach to rehabilitation and better instruction for caregivers.
Declarations
Acknowledgements
In addition to the authors of this paper, the BRAD group is composed of Sylvie Belleville, Gina Bravo, Louise Demers, Philippe Landreville, Louisette Mercier, Nicole Paquet, Hélène Payette, Constant Rainville, Bernadette Ska and René Verreault. The BRAD group collaborated for the overall research protocol, which includes five other objectives and methods related to the rehabilitation needs of stroke clientele. This study was carried out with the financial support of the Canadian Health Research Institute (CHRI) and the Réseau québécois de recherche sur le vieillissement du Fonds de la recherche en santé du Québec (FRSQ). Dr. Claude Vincent holds a FRSQ salary grant and Dr. Desrosiers a CHRI salary grant. The authors would like to thank the participants for their contribution to this project and the geriatric rehabilitation services for their support.
Authors' Affiliations
(1)
Centre for Interdisciplinary Research in Rehabilitation and Social Integration (CIRRIS), Institut de réadaptation en déficience physique de Québec, Québec (Québec), Canada
(2)
Département de réadaptation, Université Laval, Pavillon Ferdinand-Vandry, Québec (Québec), Canada
(3)
École de réadaptation, Université de Montréal, Pavillon Marguerite D'Youville, Montréal, Canada
(4)
Research Centre on Aging, University Institute of Geriatrics of Sherbrooke, Sherbrooke, Canada
(5)
Department of Nursing, Faculty of Medicine and Health Sciences, Université de Sherbrooke, Sherbrooke, Canada
(6)
Department of Rehabilitation, Faculty of Medicine and Health Sciences, Université de Sherbrooke, Sherbrooke, Canada
(7)
Research Center on Aging, University Institute of Geriatrics of Montreal, Montréal, Canada
Copyright
© Vincent et al; licensee BioMed Central Ltd. 2007
This article is published under license to BioMed Central Ltd. This is an Open Access article distributed under the terms of the Creative Commons Attribution License (http://creativecommons.org/licenses/by/2.0), which permits unrestricted use, distribution, and reproduction in any medium, provided the original work is properly cited.