Research article

Open Access

Open Peer Review
This article has Open Peer Review reports available.
Effect of interventions to reduce potentially inappropriate use of drugs in nursing homes: a systematic review of randomised controlled trials
Received: 7 October 2010
Accepted: 17 April 2011
Published: 17 April 2011
Abstract
Background
Studies have shown that residents in nursing homes often are exposed to inappropriate medication. Particular concern has been raised about the consumption of psychoactive drugs, which are commonly prescribed for nursing home residents suffering from dementia. This review is an update of a Norwegian systematic review commissioned by the Norwegian Directorate of Health. The purpose of the review was to identify and summarise the effect of interventions aimed at reducing potentially inappropriate use or prescribing of drugs in nursing homes.
Methods
We searched for systematic reviews and randomised controlled trials in the Cochrane Library, MEDLINE, EMBASE, ISI Web of Knowledge, DARE and HTA, with the last update in April 2010. Two of the authors independently screened titles and abstracts for inclusion or exclusion. Data on interventions, participants, comparison intervention, and outcomes were extracted from the included studies. Risk of bias and quality of evidence were assessed using the Cochrane Risk of Bias Table and GRADE, respectively. Outcomes assessed were use of or prescribing of drugs (primary) and the health-related outcomes falls, physical limitation, hospitalisation and mortality (secondary).
Results
Due to heterogeneity in interventions and outcomes, we employed a narrative approach. Twenty randomised controlled trials were included from 1631 evaluated references. Ten studies tested different kinds of educational interventions while seven studies tested medication reviews by pharmacists. Only one study was found for each of the interventions geriatric care teams, early psychiatric intervening or activities for the residents combined with education of health care personnel. Several reviews were identified, but these either concerned elderly in general or did not satisfy all the requirements for systematic reviews.
Conclusions
Interventions using educational outreach, on-site education given alone or as part of an intervention package and pharmacist medication review may under certain circumstances reduce inappropriate drug use, but the evidence is of low quality. Due to poor quality of the evidence, no conclusions may be drawn about the effect of the other three interventions on drug use, or of either intervention on health-related outcomes.
Keywords
Nursing Home
Psychotropic Drug
Health Personnel
Medication Review
Physical Restraint
Background
Several studies have shown that the prescription rate and consumption of drugs in nursing homes are high and that prescribing often is inappropriate [1–6]. Inappropriate use or prescribing of drugs comprises over-use as well as underuse of drugs, prescribing of multiple drugs with known interactions, for the wrong indication or in wrong doses or for too long duration. Appropriateness of prescribing can be assessed by validated tools for reviewing drug utilisation [7]. As much as 40% of prescriptions for residents in nursing homes may be inappropriate [6]. Of particular concern is the high consumption of psychotropic drugs, sedatives and sleep medication. Residents in nursing homes often have a complex and complicated illness profile ranging from simultaneous occurrence of several chronic diseases, depression, pain and sleep problems. The majority of residents in nursing homes also suffer from dementia, with the psychiatric and behavioural symptoms this often entails [3]. For these reasons, many residents use several drugs simultaneously, with increased risk of interactions between drugs, adverse effects and medication errors, with the possibility of increased morbidity and mortality. It is, therefore, desirable to reduce potentially inappropriate drug use. This review is an update of a Norwegian systematic review in Norwegian commissioned by the Norwegian Directorate of Health [8]. The objective for this systematic review was to identify, assess and summarise available scientific evidence about the effect of interventions that could be used to reduce potentially inappropriate use of drugs in nursing homes.
Methods
Search strategy
A search strategy was developed on the basis of the inclusion criteria and included the following databases: The Cochrane Library, MEDLINE, EMBASE, ISI Web of Knowledge and the Database of Abstracts of Reviews of Effects (DARE) and Health Technology Assessment Database (HTA) at the Centre for Reviews and Dissemination (CRD). MEDLINE and EMBASE was searched from their inception to August/September 2009 for systematic reviews and for randomized controlled trials for the last five years to compensate for the time lag in the Cochrane Central Register of Controlled Trials. No language restrictions were added to the search algorithms. We only searched for published literature. All searches were updated in April 2010. The complete search strategy is presented in Additional file 1, Table S1.
Inclusion criteria
Inclusion criteria were all studies of interventions aimed wholly or partly at reducing potentially inappropriate use or prescribing of drugs for elderly people in nursing home settings and that measured drug use. Studies were only included if the primary outcome, drug use, was assessed by explicit or implicit criteria [7] or where specific drugs were targeted for reduction as defined by authors. Secondary outcome measures were falls, hospital admission, physical restraints and mortality. Comparison interventions were care as usual or other interventions. Study design inclusion criteria were high quality systematic reviews of randomised controlled trials and/or primary studies with a randomised controlled design. For a review to be considered systematic, three criteria had to be fulfilled: a documented systematic search strategy, critical appraisal of included studies by at least two independent reviewers and taking the quality of evidence into consideration when drawing conclusions. Inclusion criteria for language were Norwegian, Swedish, Danish, Finish, English or German.
Exclusion criteria
Studies of the effect of withdrawal of drugs and studies that otherwise did not satisfy all the inclusion criteria were excluded.
Selection of studies
Two reviewers (LF, EG; LF, MCE) screened references and abstracts independently for identification of studies that potentially satisfied the inclusion criteria. If one reviewer assessed a reference to be potentially relevant, the full-text article was ordered. Each full-text report was assessed independently by two reviewers (LF, MCE) for inclusion or exclusion.
Assessment of risk of bias
Two reviewers (LF, MCE) assessed risk of bias for results of included randomized controlled studies using the Cochrane Collaboration's "Risk of Bias Table" [9]. In cases of disagreement, a third reviewer (GEV) was involved until consensus was reached. Each outcome within a study was assessed as of low, unclear or high risk of bias, using summary evaluation according to the table. When there was unclear risk of bias for key domains, the summary risk of bias for the outcome was also assessed as unclear. For cluster trials we added three more domains to be assessed: baseline balance, blinding of recruiters, and completeness of data for clusters and health personnel. In addition, under biases defined as 'other' in the table, we assessed the unit of analysis. If matching had been used, we assessed whether this had been adjusted for in the analysis. When clusters are allocated simultaneously, concealment is not regarded as an issue. Accordingly, if it was unclear whether clusters had been allocated all at once, we rated concealment of allocation as 'unclear'.
Data extraction, data synthesis and grading of evidence
When possible, we collected or calculated the relative risk (RR) for dichotomous outcomes and mean difference between the groups with confidence intervals for continuous outcomes. No meta-analysis was conducted, partly because the execution, intensity and duration of these types of interventions are very different and partly because the outcome was measured in several different ways and with different follow-up periods. We therefore made a qualitative analysis and presented the data in tables. The following data were extracted: participants, intervention description and the degree of implementation, comparative interventions and outcomes.
The quality of the complete documentation of each of the primary outcomes was assessed by GRADE (Grading of Recommendations, Assessment, Development and Evaluation: http://www.gradeworkinggroup.org).
Results
We identified and assessed 1631 references (205 of these from the update search) by title and abstract according to inclusion and exclusion criteria. Of these, 57 references (15 from the update) were further evaluated for inclusion in full-text. Twenty-one publications (2 from the update) of 20 randomised controlled trials met the inclusion criteria [
10
–
30
], 15 of which were randomized by clusters. A flow diagram of the selection process is presented in Figure
1
. None of the 19 identified review articles were included in this paper, as they either failed to meet the inclusion criteria of high quality systematic reviews or because they reviewed studies of elderly in general. Detailed reasons for exclusions of reviews and randomised controlled trials are reported in 'Excluded Studies' in Additional file
1
, Table S2.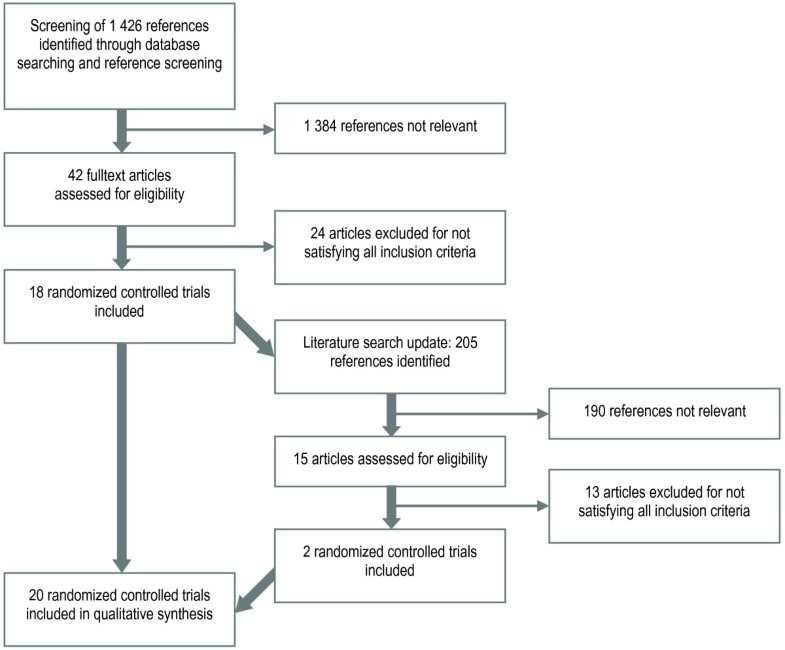 Discussion
In this review we identified, assessed and summarised evidence of the effect of interventions with a primary or secondary aim of reducing potentially inappropriate use of drugs in nursing homes. We identified 20 randomized controlled trials conducted in 431 nursing homes involving 14 416 residents and an unknown number of health personnel, but no systematic reviews that met our inclusion criteria. Three of our comparison categories (including a total of ten studies) compared an educational initiative of some kind with practice as usual, while one comparison category (including seven studies) tested medical review against usual practice. For the other three comparison categories geriatric teams, early psychiatric intervention and activity program for residents, we identifed only one study for inclusion in each category.
Five of the ten studies that tested the effect of educational initiatives reported a statistically significant effect for at least one outcome measure on the use of drugs. However, it was not possible to determine whether any of the three types of educational interventions (educational outreach initiatives, educational meetings alone or as a part of a complex intervention) had a better effect than the others. However, these studies represent only a small subset of the many studies of the effect of educational interventions in other environments involving health personnel. Systematic reviews with a broader scope than ours have concluded that there is a small, general effect on health professionals' practice and an even smaller effect on patient outcomes of all the three types of educational interventions examined in our review [32, 33]. The quality of the evidence for these results was graded as moderate [33]. The effects, however, varied from study to study without obvious reasons. This may at least partly be explained by a complex interaction of the degree of implementation of the education programme, the intensity of the programme (which is usually very low in these kind of studies), teaching methods and their quality, characteristics of the organisation, how senior leaders and practitioners perceive the seriousness of the outcomes and the complexity of the desired change [33]. Educational interventions alone can probably not be expected to change behaviour when leaders and practitioners do not perceive it to be important, or when the change is complex and dependent on the interaction of many people [32, 33]. There is reason to believe that these considerations also apply to educational programmes in nursing homes. In conclusion, the results indicate that educational programmes for health personnel may have a small effect on drug managing practice when circumstances are favourable. Although the quality of the evidence for these results in nursing homes varies from low to very low, the results are consistent with results from systematic reviews of a much more comprehensive evidence base [32, 33].
Seven studies examined the effect of medication review on drug use. The role of pharmacists varied from doing a limited medication review with a passive response to the doctor, to teaching and coordination and involvement of other health care professionals in a multidisciplinary team. In four of the studies there was a statistically significant effect on at least one measure of drug use (Crotty 2004b [13], Crotty 2004c [14], Zermansky 2006 [28], Patterson 2010 [29]), whereas the results in the remaining three were non-significant. In two of these latter studies, the pharmacist did review the drugs, but the end product seemed to be a written recommendation to the doctor as the only follow-up. This was also the case for the pharmacist medication review performed in one of the studies that we classified as educational meetings with at least one additional intervention (Roberts 2001 [24]). In the third study without a statistically significant effect the pharmacist was active in a multidisciplinary team and presumably gave recommendations or feedback orally during the meetings, but without any medication review done beforehand (Schmidt 1998 [26]/Claesson 1998 [12]).
All interventions that were examined in this review are interventions known to be context dependent [9], meaning that they may work in some contexts and not in others. Contextual factors such as the success of implementation of the intervention programme, characteristics of the host organisation, local culture, degree of support by organisational leaders, expertise of the investigational staff as well as the staff targeted by the intervention, intensity and duration of the intervention and a wide range of other factors will influence the effectiveness of the intervention. It is, therefore, a general problem that interventions and settings are poorly described with regard to detail as well as to the extent of implementation. For example, only five out of twenty included studies gave some information related to the extent of implementation of the intervention (Crotty 2004b [14], Rovner 1996 [25], Stein 2001 [27], Kuske 2009 [19], Testad 2010 [30]). Consequently, reasons for variations in effects are difficult to explain. However, there are some findings from other reviews that could tentatively illuminate some of the sources of heterogeneity. For example, passive feedbacks in the form of written recommendations to the doctor can be interpreted both as a reduction of the medication review to an intervention consisting of printed material and as a rather feeble feedback. The effect of printed material as an intervention to change behaviour has been described as uncertain [34]. Similarly, a previous systematic review of audit and feedback interventions concluded that the effect was probably greater the more intensive the feedback [35]. Therefore, in either case, in these three studies the feedback and follow-up may have been too weak.
In conclusion, the results indicate that medication review with the participation of a clinical pharmacist may have a positive influence on the use of drugs in nursing homes. This conclusion is consistent with the more comprehensive evidence base in a systematic review of interventions to improve the medication of elderly in general [36]. However, even the quality of this larger evidence base for these results was graded as low.
For our other three comparison categories, geriatric assessment team (Cavalieri 1993 [11]), early psychiatric intervention (Kotynia-English 2005 [18]) and activity measures for the residents (Rovner 1996 [25]), there were only one study with few participants and of high or uncertain risk of bias in each comparison. The quality of the existing evidence is therefore too low to determine whether these interventions can influence drug use or not, and suggests a need for larger studies of better quality.
Some of the studies in this review only assessed the level of drug use without considering the appropriateness of the drugs prescribed and used. However, severe adverse effects have been shown to be associated with use of drugs like antipsychotics [37–39] and benzodiazepines [36]. Monitoring and reducing or changing the use of such drugs could therefore be an important goal in itself.
Our preselected primary outcomes were prescription and use of drugs. However, these outcomes are actually related to process, whereas the ultimate goals are improvement in quality of life for the residents and reduction of adverse events. Because of the demonstrated associations between intake of certain drugs and health outcomes it is generally assumed that by reducing these drugs health outcomes will be improved and adverse effects reduced. Accordingly, health outcomes would not be expected to improve if there is no effect on drug use. To the contrary, however, three studies indicated small but apparently real changes in health-related outcomes without any statistically significant change in medication (Furniss 2000 [17], Kuske 2009 [19], Rovner 1996 [25]). Perhaps other factors in the active intervention such as greater awareness among staff regarding their own behaviour could explain this. Of the nine studies that did detect a statistically significant effect on drug use, five measured at least one of our preselected health-related outcomes. Only one of these had a statistically significant effect on one of the health-related outcomes, i.e. number of falls per resident, although not for the total number of patients who fell (Zermansky 2006 [28]).
It is important to be aware of the fact that the boundaries between the categories we classified the studies by are not clear cut. For example, both Roberts 2001 [24] and Crotty 2004a [13] could have been classified as medication reviews rather than as composite educational intervention and educational outreach initiatives, respectively. Also, several of the interventions could have been classified as multifaceted but we wanted to emphasise what we thought was the main content. Likewise, interventions such as pharmacists working in a multidisciplinary team could have been classified as multidisciplinary.
Possible weaknesses
Although our literature search conforms with the criteria for a systematic review and included screening for references in included studies, weaknesses intrinsic to any search strategy means that relevant studies may have been missed. We did not look for grey literature nor did we do any formal assessment of risk of publication bias. Also, in the screening process we may have overlooked studies if drug use was not reported in the abstract as one of the outcomes. In particular, this may apply to studies of different activity and environmental initiatives.
Conclusions
Our review indicates that interventions using educational outreach, on-site education given alone or as part of an intervention package and pharmacist medication review under certain circumstances may reduce inappropriate drug use in nursing homes. The evidence for these results ranges from very low to low quality but is supported by findings from other reviews of studies from a wide range of health care settings. The quality of the evidence for the results from the three other interventions that were examined, medical care by a geriatric assessment team, early psychiatric intervention and activity programme for residents was graded as very low and no conclusions about their effect on drug use can be drawn. For the same reason, no conclusions may be drawn for the effect on health-related outcomes.
Implications for research and practice
Further research should concentrate on improving our understanding of when interventions such as education or medication reviews are likely to be effective and how to improve them. Also, studies that examine the effect of combined approaches, conducted by a multidisciplinary team and structurally and organisationally integrated in the institution are likely to be of interest. Many of the studies described in this review were small or provided too little detail on design or how the interventions were carried out, with very low quality of evidence as a result. Therefore, it is important that further studies are sufficiently powered and take greater care in describing study and intervention conditions. Only then may conclusions be drawn on a reliable basis.
It has been pointed out that doctors, nurses and pharmacists receive little training in drug treatment of older people in their education [40]. Consequently, it is difficult to imagine any intervention for reducing drug use that does not imply some kind of educational initiative. Most likely, however, several measures of organisational and structural character would have to be planned as part of the managerial approach. This could comprise organisation of continuous education of relevant health personnel, allocation of time to make it possible for personnel to participate and explicit procedures and routines for medication review actively involving key personnel in a multidisciplinary team setting. Carrying out these activities should be endorsed and followed up by those professionally responsible in the nursing home.
Authors' Affiliations
(1)
Norwegian Knowledge Centre for the Health Services, Oslo, Norway
(2)
Institute of Medical Genetics, University of Oslo, Oslo, Norway
(3)
Section for Medical Ethics, University of Oslo, Oslo, Norway
Copyright
© Forsetlund et al; licensee BioMed Central Ltd. 2011
This article is published under license to BioMed Central Ltd. This is an Open Access article distributed under the terms of the Creative Commons Attribution License (http://creativecommons.org/licenses/by/2.0), which permits unrestricted use, distribution, and reproduction in any medium, provided the original work is properly cited.